Translation and Interpretation Services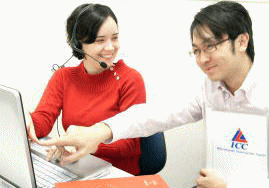 Since its inception in 1986, ICC has been providing high-quality translation and interpretation services to a wide range of corporate clients, governmental institutions and other organizations, as well as to private individuals. Our clients have relied on us to translate documents and other materials quickly and accurately. ICC's commitment to quality and excellent service, at reasonable rates, is the reason for the very high satisfaction level of our clients. To ensure that they receive top-quality services, we select only the finest professional talent and follow stringent quality control procedures for every project. With more than 1,000 registered professional linguists, ICC can solve communication challenges in more than 50 languages and dialects, in a wide range of subjects and situations.
Please call us or e-mail us with your specific needs, and we will be happy to provide you with a fast and free estimate. To receive the most accurate estimate for translation work, mail or fax us copies of the documents to be translated. If the volume of the documents is large, send us between five to ten representative pages. Volume discounts for translation work is available. Be assured that all translation and interpretation work is kept strictly confidential.                  
For a free quotation please click here
Areas of Specialization
• Advertising
• Banking
• Business
• Defense
• Security
• Law Enforcement
• Law
• Engineering
• International Development
• Marketing
• Medical
• Technology
• Video and Multi-Media
• Others

ICC can provide interpreters for
• Business meetings
• International conferences
• Teleconferences
• Training seminars
• Workshops
• Negotiations
• Facility tours
• Medical settings
• Depositions
• Court hearings
• Trials
• Others

Important translation tips:
What is the language of the documents to be translated?
What is the language the documents need to be translated into?
What is the subject matter?
Are the documents original, copies or faxes?
What is the level of the quality required (Certified, publication quality, edited, or for information only)?
How many pages need to be translated, how many words are there per page?
What are your formatting requirements (Tables, graphics, desktop publishing, multi-language forms)?
What are your software requirements (MS, PowerPoint, Excel, others)?
Are there any conversions of currency or measurements?
Is the turnaround time preferred or absolute?
What is the level of security needed (Company confidential, government confidential, secret, or top secret)?
Important interpretation tips:
What are the languages required?
What kind of interpretation work is it (Escort, Consecutive, or Simultaneous)?
What type of venue is it (Conference, business meeting, court proceedings, facility tour)?
Where is the location?
Is travel required?
How many participants are there?
What countries are the participants from?
What subject matter will be discussed?
How many interpreters are needed?
What level of security clearance, if any, is required for the interpreter(s)?
What are the dates needed?
How many hours per day are needed?
What type of equipment is needed?
What type of equipment is provided?
Are there any background materials available?
Translation Rates
Translation Rates
Languages
Unit Price
Unit
Japanese ⇒ English, French, German, Spanish,
Italian, Russian, Chinese and Korean
¥7,000
23 line page
(1 double-spaced, A4 size page)
Japanese ⇒ Other languages
¥7,500
English, French, German, Spanish, Italian,
Russian, Chinese and Korean ⇒ Japanese
¥7,000
1 Japanese, 400 character page
Other languages ⇒ Japanese
¥7,500

Interpretation Rates
Interpretation Rates
Languages
2 hours
3 hours
4 hours
5 hours
6 hours
7 hours
8 hours
Japanese ⇔ English,
French, German, Spanish,
Italian, Russian,
Chinese and Korean
¥16,000
(¥8,000)
¥23,250
(¥7,750)
¥30,000
(¥7,500)
¥36250
(¥7,250)
¥42,000
(¥7,000)
¥47,250
(¥6,750)
¥52,000
(¥6,500)
Japanese ⇔ Other languages
¥17,000
(¥8,500)
¥24,750
(¥8,250)
¥32,000
(¥8,000)
¥38,750
(¥7,750)
¥45,000
(¥7,500)
¥50,750
(¥7,250)
¥56,000
(¥7,000)