You can have an authentic language lesson anyplace you like.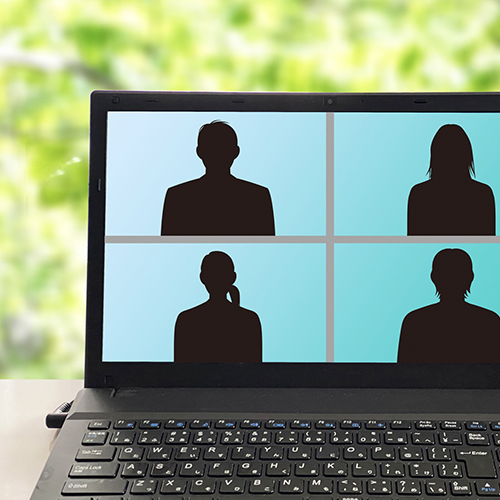 ICC Language Schools offers quality online lessons.
If you have a Smartphone, tablet or PC, you can have an authentic language lesson at a place of your choosing. Even those who are very busy can have regular lessons
without too much difficulty.
The lessons are conducted by Smartphone, tablet or PC via online meeting systems
such as Zoom, Skype and Google Meet as well as other formats.
ICC's online lesson system enables you to study over 50 of the world's languages
from anywhere throughout the world.

ICC Language School's Online Lessons feature is it's "Fixed-Instructor" system.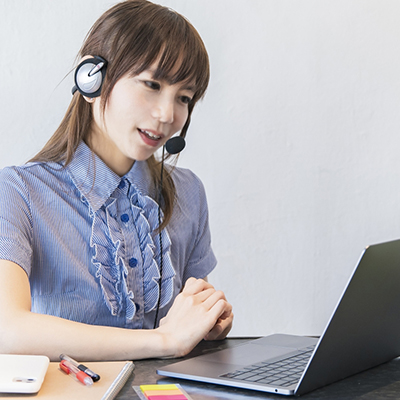 At ICC Language Schools, our experienced staff helps the student choose an
instructor that is appropriate to the student's level, and offers support when needed throughout the course. As in face-to-face lessons held in the classrooms, the
"Fixed-Instructor " system is used, enabling the student and the instructor to
regulate the pace and progress of the lessons.

ICC's Online Lesson Programs are ideal for those who are having online lessons
for the first time or those who would like to thoroughly acquire a second language.
School Fees
1 unit is 50 minutes. / This amount includes tax.
| | |
| --- | --- |
| Enrollment Fees | ¥22,000(regular fee) ⇒ ¥11,000 (special discount price) |
| Books/Materials | The average textbook fees are about ¥5,500, depending on the target language, the level, and the objective of the student. |
| Lesson Fees | The type of lesson may vary depending on language and number of lessons purchased. |
Private Courses
Units
Validity
A Group
B Group
10
3 m.
¥53,460
(10×¥5,346)
¥63,580
(10×¥6,358)
25
6 m.
¥132,275
(25×¥5,591)
¥157,850
(25×¥6,314)
50
1 y.
¥261,800
(50×¥5,236)
¥312,950
(50×¥6,259)
100
1 y.
¥503,800
(100×¥5,038)
¥605,000
(100×¥6,050)
■A Group: Course fees for English, French, German, Spanish, Italian, Russian, Chinese, Korean, and Japanese only.
■B Group: For Languages not included in Group A.
Semi Private Courses (Fees per student)
Units
Validity
2 students
3 students
10
3 m.
¥40,150
(10×¥4,015)
¥30,030
(10×¥3,003)
25
6 m.
¥99,275
(25×¥3,971)
¥73,700
(25×¥2,948)
50
1 y.
¥195,800
(50×¥3,916)
¥144,650
(50×¥2,893)
100
1 y.
¥386,100
(100×¥3,861)
¥284,900
(100×¥2,849)
■The above fees apply to all languages.
■The semi private courses are for students who with study toghether with family members or colleagues.
Group Courses
Units
Validity
2~4 students
5~10 students
10
3 m.
¥92,620
(10×¥9,262)
¥111,980
(10×¥11,198)
25
6 m.
¥230,175
(25×¥9,207)
¥278,575
(25×¥11,143)
50
1 y.
¥458,150
(50×¥9,163)
¥554,950
(50×¥11,099)
100
1 y.
¥895,400
(100×¥8,954)
¥1,089,000
(100×¥10,890)
■The above fees apply to all languages.
■The group courses are for language training and corporate training for employees.
Half Day Intensive Private Courses
Days
Validity
Half Day Course Fees (3 units per day)
5
1 m.
¥80,190 (15×¥5,346)
10
2 m.
¥158,730 (30×¥5,291)
15
3 m.
¥235,620 (45×¥5,236)
25
6 m.
¥381,975 (75×¥5,093)
■The above fees apply to all languages.
Process for starting ICC's Online Lessons
1)For those wishing to enroll in ICC's Online lesson Program, we ask that you complete the following form.

2)ICC's staff will contact you to discuss in detail your schedule, study goals or any other wishes or requests you may have.
3) ICC will prepare an estimate should you wish to have one. ICC can also begin making preparations for your course at this time should you wish us to do so.
4)After completing the enrollment procedures(ICC will explain in detail upon application for enrollment), the course will begin.

5) At the completion of the course, at the student's request, ICC can provide a student report and a certificate of course completion.
Please click here for information concerning trial lessons.
For those wishing to have an online trial lesson, you may do so in the same way as a trial lesson on the school premises for a small trial lesson fee.
Please click here for information regarding trial lessons.

ICC's Online Course Agreement
ICC requests that you carefully read the following agreement prior to applying for enrollment.Please click here